中国科学院大气物理研究所大气科学和地球流体力学数值模拟国家重点实验室
State Key Laboratory of Numerical Modeling for Atmospheric Sciences and
Geophysical Fluid Dynamics (LASG)
Institute of Atmospheric Physics, Chinese Academy of Sciences

Vol.18/No.18 December 2022
LASG Co-organized International Conference on Air-Sea Interaction and Climate Dynamics
On November 20-21, 2022,the National University of Defense Technology held " International Conference on Air-Sea Interaction and Climate Dynamics" in Changsha. The State Key Laboratory of Numerical Modeling for Atmospheric Sciences and Geophysical Fluid Dynamics (LASG), Institute of Atmospheric Physics
,
Chinese Academy of Sciences
,
the State Key Laboratory of Tropical Oceanography (LTO), the South China Sea Institute of Oceanology, Chinese Academy of Sciences and the School of Marine Sciences of Sun Yat-sen University co-organized the event.
Themed "focusing on air-sea interaction and promoting climate prediction", the conference was held both online and offline. It gathered more than 200 experts, scholars and practitioners from over 40 universities and institutes at home and abroad. The participants had in-depth exchanges and discussions on the frontier theories, trends and challenges of air-sea interaction and its impacts, climate dynamics and numerical modeling. The conference invited 8 keynote reports, 15 plenary reports, 54 session reports and received about 100 contributions. LASG members were actively involved in the meeting. Dozens of professors were invited to give presentations and graduate students learned attentively through online participation.
The conference built a good platform for air-sea interaction and climate dynamics mechanism researchers to share their latest findings and to explore possible future collaborative opportunities. It was expected to promote the common development of meteorological and marine fields.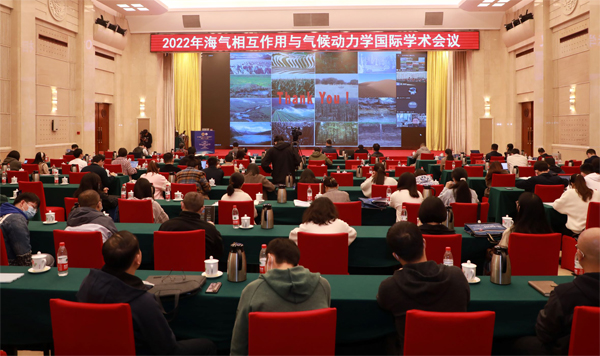 Conference venue
Add: No.40, Huayanli, Beichen West Road, Chaoyang District, Beijing P.O. Box 9804, 100029, China
E-mail: lasg_newsletter@lasg.iap.ac.cn
Editors: Chuanyi Wang (wangcy@lasg.iap.ac.cn), Kangjun Chen(ckj@lasg.iap.ac.cn)