中国科学院大气物理研究所大气科学和地球流体力学数值模拟国家重点实验室
State Key Laboratory of Numerical Modeling for Atmospheric Sciences and
Geophysical Fluid Dynamics (LASG)
Institute of Atmospheric Physics, Chinese Academy of Sciences

Vol.18/No.18 December 2022
LASG and Hong Kong Observatory Jointly Held Seminar on Typhoon Target Observation and Field Campaign
On July 11, 2022, Seminar on Typhoon Target Observation and Field Campaign jointly organized by the State Key Laboratory of Numerical Modeling for Atmospheric Sciences and Geophysical Fluid Dynamics (LASG), Institute of Atmospheric Physics (IAP), Chinese Academy of Sciences and the Hong Kong Observatory (HKO) was held online. More than 80 experts, young researchers and graduates from over 10 institutions at home and abroad attended. The seminar focused on two themes: typhoon target observation of Fengyun-4 Satellite and airborne drop radiosonde.
The meeting was presided over by Prof. DUAN Wansuo. Prof. XIAO Ziniu, LASG Director and Prof. CHAN Pak Wai, Assistant Director of the Hong Kong Observatory (HKO) were invited to give opening remarks. Both emphasized typhoon target observation is important for understanding the generation and evolution mechanism of typhoon and for improving typhoon forecasting skill. LASG and HKO are fully supportive of typhoon target observation research.
Six typhoon target observation joint research team members from IAP, HKO, China Meteorological Administration (CMA) operational departments and Fudan University reported respectively on the observation performance of Fengyun-4 Satellite, the operation of aircraft observation and typhoon target observation in the South China Sea, and the role of Fengyun-4 and airborne sounding target observation in improving typhoon forecasting skill.
Invited experts led by CAS Academician Prof. MU Mu from Fudan University, and experts from IAP, CMA, HKO, Shanghai Meteorological Service, Beijing Institute of Applied Meteorology and Oklahoma State University reviewed the reports. The panel highly affirmed the important progress made by the team in typhoon target observation research and field Campaign in the past two years. It was highlighted that the team adopted the advanced methods proposed by Chinese scholars and applied the theory on China's observation platform, achieved the integration of target observation methods and practice, which is a systematic project independently promoted by Chinese scholars. In addition, experts put forward suggestions on future typhoon target observation research as well as corresponding international cooperation in field campaign.
The seminar summarized the achievements and experience of typhoon target observation research and field campaign in the past two years,defined implementation plan in 2022. Consensus on more coordinated and close cooperation among team members was also reached at the meeting.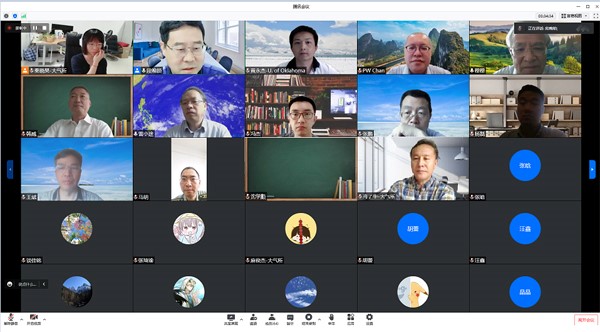 Screenshot of the online seminar
Add: No.40, Huayanli, Beichen West Road, Chaoyang District, Beijing P.O. Box 9804, 100029, China
E-mail: lasg_newsletter@lasg.iap.ac.cn
Editors: Chuanyi Wang (wangcy@lasg.iap.ac.cn), Kangjun Chen(ckj@lasg.iap.ac.cn)