中国科学院大气物理研究所大气科学和地球流体力学数值模拟国家重点实验室
State Key Laboratory of Numerical Modeling for Atmospheric Sciences and
Geophysical Fluid Dynamics (LASG)
Institute of Atmospheric Physics, Chinese Academy of Sciences
Vol.11/No.11 November 2019
A new study reveals human contribution to the seasonal warming in Central Asia
Arid Central Asia is the geographical core region of the Silk Road Economic Belt. Against the background of global warming, the warming rate in this region is much larger than the global average, resulting in a great threat in the vulnerable ecological system over Central Asia. However, the information on how and why the climate in this region has changed is still quite limited.
A recent attribution study was conducted by a collaboration of Dr. PENG Dongdong from the Institute of Tropical and Marine Meteorology, China Meteorological Administration, Guangzhou, Prof. ZHOU Tianjun and the other researchers from the Institute of Atmospheric Physics, Chinese Academy of Sciences to address the long-term temperature changes over Central Asia by using the CMIP5 model simulations. The observed annual mean temperature over Central Asia significantly increases by 1.33℃ from 1961 to 2005, which mainly concentrates in summer (0.90℃), autumn (1.22℃), and winter (2.48℃). Based on the optimal fingerprinting method, this study revealed that the influence of anthropogenic forcing on the seasonal warming can be robustly detected (Figure 1). As the dominator, greenhouse gases forcing contributes 1.25℃, 1.11℃, 1.11℃, and 2.50℃ to the annual, summer, autumn, and winter mean temperature, respectively. Besides, the attribution results demonstrate a potential underestimation (overestimation) of future annual and winter (summer and autumn) temperature changes in Central Asia. This study corrected the future projections based on the attributed scaling factors, showing a large annual variation, which is different from the conclusion "CMIP5 projected temperature increase in Central Asia of comparable magnitude in both JJA and in DJF" reported in IPCC AR5 (Figure 2).
The results was recently published in Climate Dynamics.
"This study robustly detects the influence of human activities on the seasonal temperature changes in Central Asia. Moreover, the potential biases in future temperature changes projected by CMIP5 models are corrected based on the attributing results." Said PENG Dongdong, the lead author of this study. "Nonetheless, as evidenced by our analysis, the spread is still large after the scaling adjustment. Another limitation of the method is the difficulty to consider the spatial patterns of the projected warming trend. We hope the ongoing CMIP6 project will provide an opportunity to reduce the model uncertainty." Emphasized by Prof. ZHOU Tianjun, the corresponding author.
Citation:
Peng D, Zhou T*, Zhang L, et al. Detecting human influence on the temperature changes in Central Asia[J].
Climate Dynamics
, 2019 (53):4553–4568. https://doi.org/10.1007/s00382-019-04804-2
Contact : ZHOU Tianjun, zhoutj@lasg.iap.ac.cn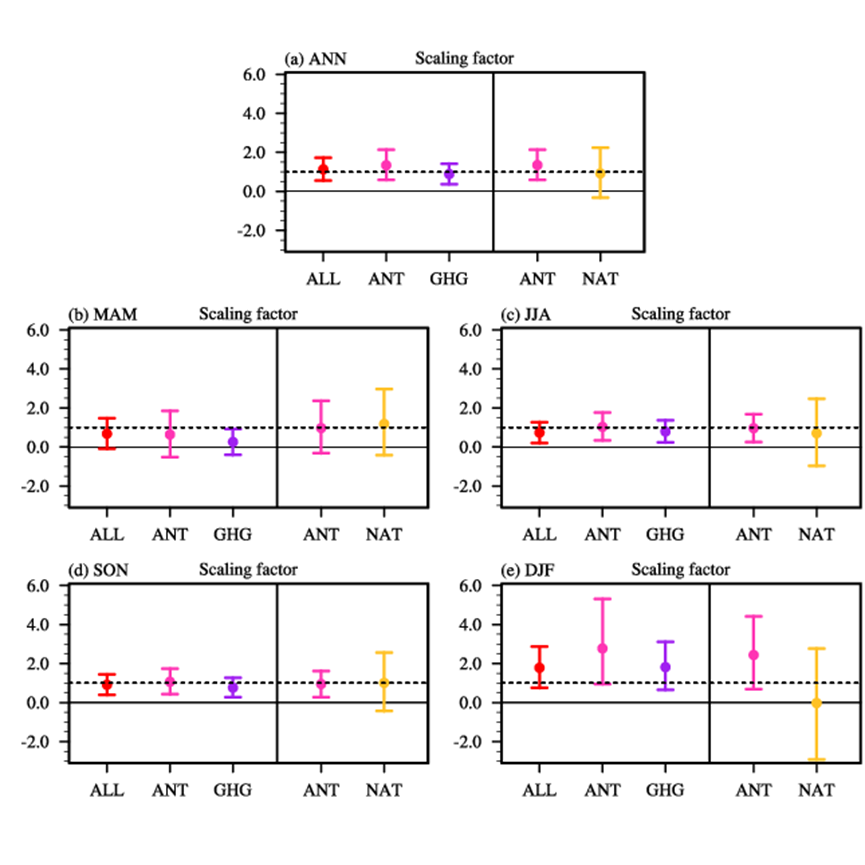 Fig.1. Scaling factors of detecting temperature changes in Central Asia during 1961-2005.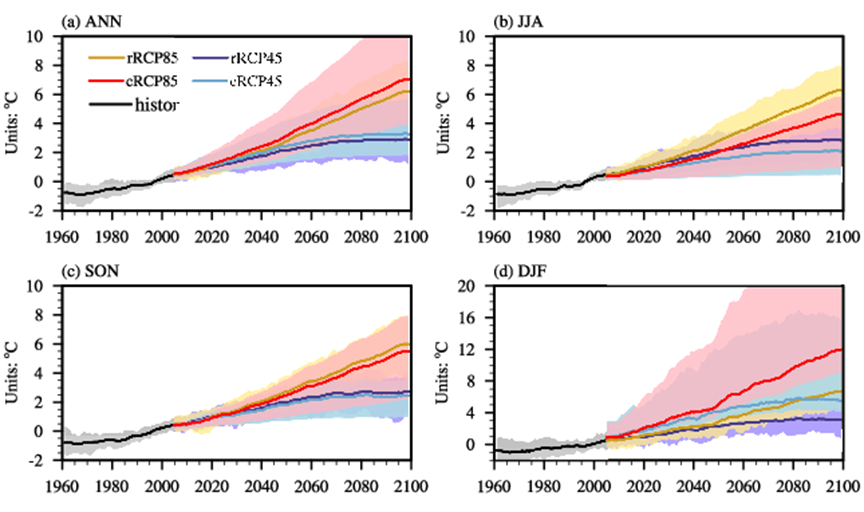 Fig.2. Future temperature changes in Central Asia during the 21st century from raw ("r") and corrected ("c") CMIP5 projections. Unit: ℃.
Add: No.40, Huayanli, Beichen West Road, Chaoyang District, Beijing P.O. Box 9804, 100029, China
E-mail: lasg_newsletter@lasg.iap.ac.cn
Editors: Chuanyi Wang (wangcy@lasg.iap.ac.cn), Kangjun Chen(ckj@lasg.iap.ac.cn)