中国科学院大气物理研究所大气科学和地球流体力学数值模拟国家重点实验室
State Key Laboratory of Numerical Modeling for Atmospheric Sciences and
Geophysical Fluid Dynamics (LASG)
Institute of Atmospheric Physics, Chinese Academy of Sciences
Vol.11/No.11 November 2019
First International Workshop on Global Monsoons Model Intercomparison Project Held
The 1st International Workshop on Global Monsoons Model Intercomparison Project (GMMIP) was held in Beijing over 28-30 October, 2019. The workshop was initiated by co-chairs of GMMIP, Prof. Tianju Zhou, Dr. Andrew Turner and Prof. James Kinter and organized by the Institute of Atmospheric Physics. Meanwhile, the workshop was also supported by the International Partnership Program of Chinese Academy of Sciences "International research project of global monsoons modelling" and the State Key Laboratory of Numerical Modeling for Atmospheric Sciences and Geophysical Fluid Dynamics (LASG).
The workshop attracted more than 80 participants from 13 countries and regions. 37 oral lecturers and 13 posters were presented from more than 20 institutes and universities, including the Institute of the Atmospheric Physics, University of Reading, University of Exeter, Met Office Hadley Center, Max Planck Institute for Meteorology, Laboratoire de Météorologie Dynamique, Meteorological Research Institute, Indian Institute of Tropical Meteorology, Pusan National University, New York University Abu Dhabi, Zimbabwe Meteorological Services Department, City University of Hong Kong, Chinese Academy of Meteorological Sciences, Beijing Climate Center, Nanjing University of Information Science & Technology, Tsinghua University, Sun Yat-sen University, Zhejiang University, First Institute of Oceanography, Jinan University, National University of Colombia, Institute of Geographic Sciences and Natural Resources Research, Institute of Tropical and Marine Meteorology, and National Marine Environmental Forecasting Center.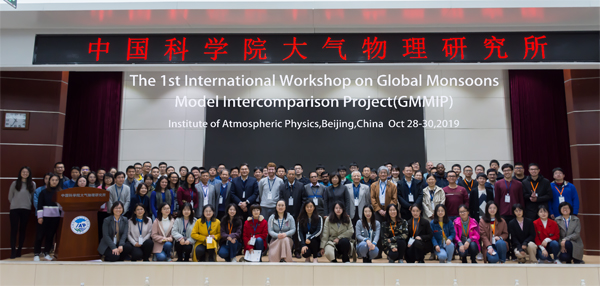 The main goals of the GMMIP workshop was to understand physical mechanisms underlying the evolution of global monsoon systems, improve the skill of monsoon prediction and projection, promote the GMMIP project, including five topics: evaluation of CMIP6 models on global monsoons' simulation, detection and attribution of global monsoons' long-term change, monsoon prediction on seasonal to decadal timescales, added value of high-resolution modelling on monsoon simulation, future projection of monsoon changes. In the GMMIP workshop, the monsoon communities of modeling, evaluation and application got together, coming to an energetic discussion over these hot topics. It facilitated the international communication and collaboration in monsoon field, and promoted the progress of CMIP6 and GMMIP projection going to the next level.
Add: No.40, Huayanli, Beichen West Road, Chaoyang District, Beijing P.O. Box 9804, 100029, China
E-mail: lasg_newsletter@lasg.iap.ac.cn
Editors: Chuanyi Wang (wangcy@lasg.iap.ac.cn), Kangjun Chen(ckj@lasg.iap.ac.cn)